Thai Summit uses conventional checking fixtures, Datamytes, coordinate measuring machines (CMM's), and Optigo (white light scanning systems), both manually and fully automated to ensure the highest quality parts.
Conventional Checking Fixtures
OAC utilizes a dedicated checking fixtures approved by the customer to verify dimensional integrity. These checking fixtures are well maintained and used throughout the life of the part.
Opticell 3-D White Light Measurement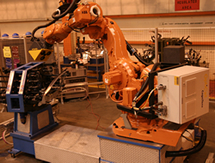 Thai Summit utilizes a non-contact white light 3D optical system for dimensional measurement as well. This system is faster than traditional CMMs and provides complete surface dimensional data. Following many successful applications of the manual Optigo equipment, Thai Summit fully automated the system for production use.
Thai Summit uses this system for measuring point data for the production part approval process (PPAP), virtual assembly, analyzing production parts, and reverse engineering of parts. The benefit of this system includes:
Faster data acquisition
Full 3-D inspection
Timely problem resolution
Operator independent measurement results
Full view of the product's dimensional quality
Zeiss SMM-DSE Measuring Machine
Thai Summit utilizes an SMM system for dimensional measurement. It has a 50-ton capacity.
Drive-on/Drive-off isolation foundation
Reverse engineering capability
Total CAD integrated software
Statistical process control/reporting software
Laser scanning capability