The key to achieving perfect parts is a high quality tool. Thai Summit can assist you with all your tooling needs from design to production. Our engineers use many software systems (AutoCAD, AutoForm, CATIA, IDEAS, ProE, SMIRT 8, TEBIS, Unigraphics) for simulation studies, design and manufacturing optimization. We also provide in house tooling services for not only our internal customers, but external customers as well. Our services are cost effective for enhanced product realization and value.
Design & Manufacturing
Together with our customer we perfect the design and transmit the information to Thai Summit's plant in Japan where the dies are built. This allows the customer's design engineers, Thai Summit's die making operation and Thai Summit's engineers to review the design and data together as a team. Thai Summit's dies are manufactured through a high speed and high quality serial process based on integrated data information.
Tryout & Launch
Thai Summit's 400-ton die spotting presses, Kojima 2000-ton hydraulic dual action press and Kojima 1000-ton hydraulic single action press enable us to assure the fit of the upper and lower die and to produce perfect tryout parts prior to the start of production. We also offer automated spotting presses for low volume runs, with a reduced level of human handling. Thai Summit has launched over 100 new products enabling us to develop timely solutions to your metal stamping and fabrication needs.
Modification & Maintenance
Frequently, customers require engineering changes in their part design. Thai Summit responds quickly with CNC milling machines where dies can be restored to pre-programmed tolerances. Preventative maintenance and tool improvement are done in our own die shop. During regular scheduled inspections dies go through our cleaning and maintenance procedures to ensure part quality.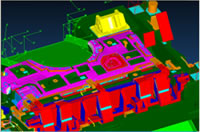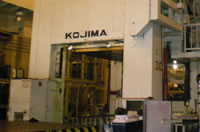 Tooling Services
The Tooling Service Division is a full service team dedicated to exceeding the quality and productivity expectations of our internal and external customers. Our SERVICES include the following:
Panel buy-off of customer surface and dimensional quality standards
Sheet metal blank reduction activities for added savings
Buy-off for tooling static and dynamic characteristics
Press line tryout and buy-off production panels
Engineering Change incorporation
Die spotting and adaptation
Die refurbishment

Punch finishing
Trim/pierce sharpen
Flange gap/timing
High pressure washing
Preventative maintenance
Scrap fall concerns
Automation and sensors
Tooling Buy-Off Needs
Our team of Skilled Trades Die Finishers and Machinists utilize the latest technology to provide complete customer satisfaction for all tooling buy-off needs. Some of the BENEFITS from using our tooling services include the following:
Reduce costs for home press downtime
Added value to product by bringing the tool to latest design levels
Reduced cost for expatriate expenses and travel time
Single sourcing for all tooling service requirements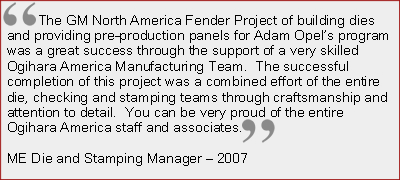 Spotting Presses
Kojima 2000ton (1500mm x 500mm x 400mm, Double Action) Hydraulic Press with cushion pins (1 Unit)
Kojima 1000ton (4500mm x 2500mm, Single Action) Hydraulic Press with cushion pins (1 Unit)
Thai Summit 400ton (4000mm x 2500mm) Die Spotting Press (2 Units)
Access to 5 mechanical production press lines for tryout
Machines
Shin Nippon Koki - HF-5 CNC 3-axis Large Milling Machine (5300mm x 2500mm)
Machining Center 4XIF (1100mm x 522mm)
Radial Drilling Machine TRE 2000D
Pre / Post Heat Oven
Lathe / Surface Grinder, etc.