Management System
Thai Summit is a leader in the automotive industry for the implementation and certification of an Integrated Management System. The Integrated Management System established and maintained by Thai Summit is to ensure that the quality of our products conform to technical specifications of the ISO/TS16949, all legal and regulatory requirements of the ISO14001 and the health and safety requirements of the OH&S18001, with an emphasis on our Customer specific requirements.
The Integrated Management System incorporates a total quality, environmental and safety assurance concept encompassing management, marketing, sales, technical support, finance, process design, manufacturing, test, inspection, purchasing, and resources using the PDCA cycle.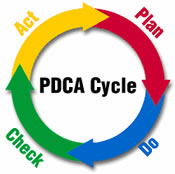 Plan: Establish the objectives and processes necessary to deliver results in accordance with customer requirements and the organization's policies.
Do: Implement the Process
Check: Monitor and measure processes and product against policies, objectives and requirements for the product and report the results.
Act: Take the actions to continually improve process performance.
Repeating the PDCA cycle for continuous improvement is critical for tracking lessons learned and understanding Things-Gone-Wrong (TGW), repeating the PDCA cycles on processes until achieving our goals. Thai Summit uses many quality driven disciplines, including Kaizen, 5-Why Problem Solving, and Six Sigma to analyze Root Cause.
Total Production Maintenance (TPM)
In 2001, the Japan Institute of Plant Maintenance recognized Thai Summit for the honor of First Category, the Total Productive Maintenance Excellence Award. Thai Summit uses TPM to ensure uninterrupted production. TPM elevates the significance of maintenance as a necessary and important part of the business. Maintenance schedules are part of the manufacturing process, which keeps emergency and unscheduled maintenance to a minimum avoiding waste and reducing costs while still upholding product quality.

Lean Manufacturing
Thai Summit uses lean manufacturing techniques to improve processes and eliminate waste. Lean manufacturing focuses on getting the right parts to the right place at the right time in the right quantity to achieve optimal workflow. It is also a systematic approach to identifying and eliminating waste through continuous improvement. Other manufacturers and universities have benchmarked our lean manufacturing processes many times over the past 20 years.
Scorecard System
To maintain compliance with ISO/TS and as a means to track Quality Operating Systems, Thai Summit uses a Scorecard system to track all departments' objectives and performance goals. Department Managers are responsible for achieving the targets and goals set for that department. This Scorecard has each area's metrics, targets, and goals for quick reference.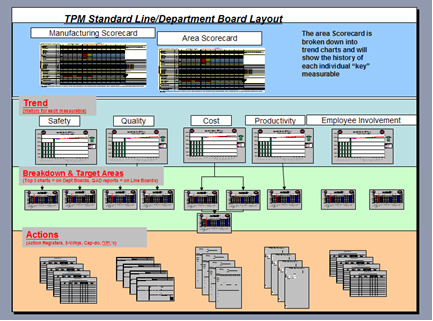 Software
Thai Summit Corporation uses several software packages for quality management and Advance Product Quality Planning (APQP). Our quality compliance processes are an essential part of our ability to deliver superior value to customers. This software manages product life cycle, aids in corrective & preventive action (CAPA) issue resolution for closed-loop accountability, and provides defect tracking and nonconforming material management.